Sale!
Gigaset CL660HX Duo with New phone number
$200.00
Description
Gigaset CL660HX Duo
Distinctly beautiful – perfect for connection to the router.
2 universal handsets for addition to:
– DECT/GAP routers
– Routers with DECT CAT-iq 2.0/2.1
– Gigaset DECT base stations
Large 2.4'' TFT colour display with modern user interface (50 x 38 mm)
Brilliant sound quality (HD Voice), even in the hands-free mode
Address book for up to 400 contacts with 3 telephone numbers each
Slim modern design
DESCRIPTION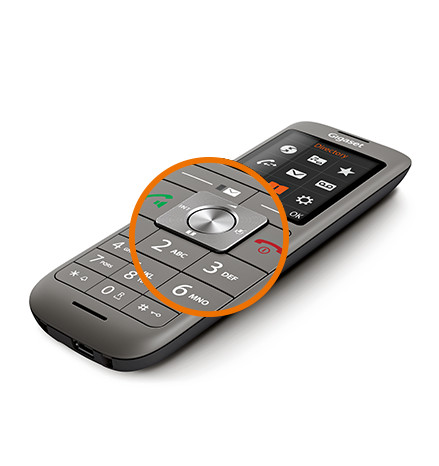 Excellent looks and handling. That's how a telephone should be.
The flush keys underscore the telephone's high quality. The frameless illuminated keypad ensures optimum ease of use. The classic anthracite colour lends the cordless telephone particular elegance. The redesigned navigation key and the large high-resolution display fit in perfectly with the modern look and make the Gigaset CL660HX a real eye-catcher.
Sounds futuristic, sounds brilliant.
One for all: The CL660HX universal handset is suitable for all common Internet routers, e.g. for the FRITZ!Box, the Telekom Speedport and many other models. You thus automatically use state-of-the-art Internet telephony and with the CL660HX you benefit from natural sounding audio quality in HD Voice. In addition you have numerous convenience functions at your disposal: a router-internal answering machine, access to the router's telephone book as well as lists of incoming, outgoing and missed calls.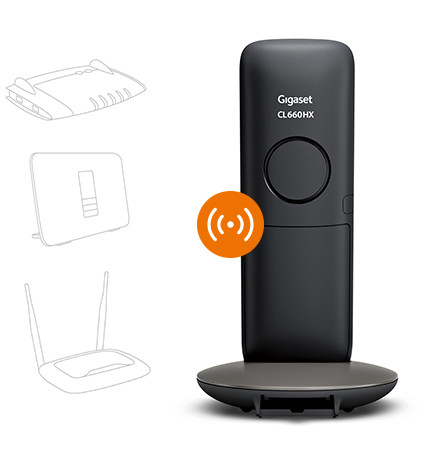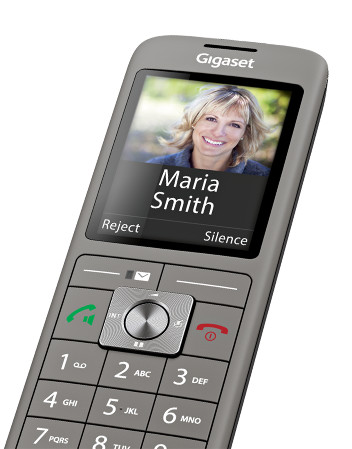 Now it's a personal matter. With your own family photos and ring tones.
The CL660HX cordless telephone allows you to easily personalise your telephone with individual ring tones, your own photos and screensavers. Call display with a picture of the caller is also possible if you have stored the contact in your address book with a picture. Easily personalise your CL660HX using the free Gigaset QuickSync software, which you can download for your PC or Mac here.
Download QuickSync free of charge
Managing contacts? Not a problem with the CL660HX.
Manage all your contacts more easily than ever before using the Gigaset QuickSync software! The large address book of the CL660HX offers space for up to 400 entries with three telephone numbers each. You can quickly synchronise these numbers from your PC or Mac – very quickly via micro USB and with the address books of MS Outlook, Windows or Google Cloud. It's also possible to synchronise contacts with pictures. Another practical feature: VIP numbers and the birthday reminder function for particularly important people and events.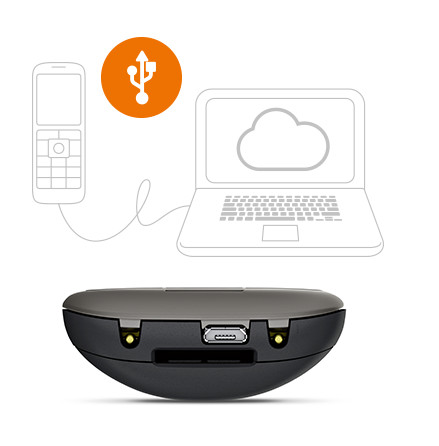 TECHNICAL DETAILS
Specifications
Article name
Gigaset CL660HX Duo
DECT Standards
DECT, GAP, CAT iq 2.0
Interfaces internal
Micro-USB, Headset connection 2,5 mm
ECO DECT
Autom. reduction of transmission power, Radiation-free in standby mode, Low energy consumption
Gigaset GO Features
Gigaset.net worldwide telephony, Gigaset GO Apps, Online Services, E-Mail Notification
Standby time up to (h)
280
Address book # entries, (name, surname, 3 numbers, pictures, date-reminder, sounds)
400
Individual ringertones for VIP entries
Yes
Adressbook synchronization via QuickSync (Outlook, Google-Contacts)
Yes
Automatic redial function in handset
Yes
Room monitoring (Babyphone)
Internal (second handset required), External
Direct dial (Babycall)
Yes
Optical call signaling
Illuminated display, Flashing send key
Number assignment for incoming and outgoing external calls
Yes
Number assignment for incoming and outgoing internal calls
Yes
Phone-/Adressbook-transfer internal via DECT (handset to handset)
Yes
Internal transfer of external calls, conference circuit, call back
Yes
Sound Quality / Accustic Features
HD Voice (CAT-iq certified), HD Voice (wideband voice)
Handsfree talking
Convenient hands-free talking (full duplex quality)
Handsfree talking handset / base
Handset
Adjustable Volume
Via Menu
Display Type
Color Display
Dimensions (H x W mm)
50 x 38
Diagonal spread (inch)
2.4
Resolution (px)
240 x 320
Display of caller
Display of caller's number (CLIP) with picture (Picture CLIP)
Multilingual menu (several display languages)
Yes
Time / Date displayed
Yes
Easy handling with navigation key
Yes
Message indicator key
Yes
Handset, H x W x D in mm
157 x 52 x 21
Handset, weight incl. Accu in g
116
Charger, H x W x D in mm
92 x 20