Sale!
Gigaset C570HX with new phone number
$170.00
Gigaset C570HX with new phone number
Description
Gigaset C570HX with new phone number
Comfort in every detail, ideal for all routers with DECT base set.
Universal handset to supplement the following:

DECT/Gap routers
Routers with DECT/Cat-iq 2.0
Gigaset DECT base stations

Slim design, superb ergonomics, powerful technology
Large TFT colour display (58 mm/2.2″) with modern user interface
Large phone book for up to 200 contacts with 3 numbers each
Compatible with all routers with DECT base set: the Gigaset HX models.
The way we telephone has gone digital too: Most telephone suppliers, such as Telekom for example, are already changing over to IP telephony. With the cordless Gigaset HX universal handsets, you're well equipped for the changeover: They are compatible with all routers with DECT/CAT-iq, such as FRITZ!Box or Telekom Speedport, and use these as a base station. So you can continue to use your telephone even if you change your router.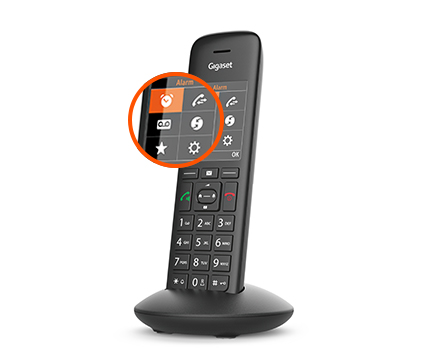 Now you can see the comfort clearly.
As soon as you look at the high-contrast colour display, you can see what telephone comfort means, and the simple navigation really helps here. The large TFT colour display offers excellent legibility of graphics and letters, six easy icons to enter the main menu, plus an easy-to-read jumbo mode showing all the figures on an extra-large scale. Together with the widely spaced illuminated keys, the Gigaset C570HX thus reaches new heights of intuitive operation and comfort.
Lots of room for lots of friends.
The Gigaset C570HX's large phone book makes managing your contacts as pleasant as possible: It can hold up to 200 contacts, including first name, last name and 3 numbers for each, so you can easily accommodate all your friends.  Thanks to the programmable short-cut keys, you can reach your favourite contacts without needing to key in long numbers. And you can easily synchronise your phone book entries between all your connected Gigaset handsets. In addition, the practical birthday reminder function means you'll never forget you loved ones' special days – and the VIP melody tells you when important callers are phoning, just by the ring tone.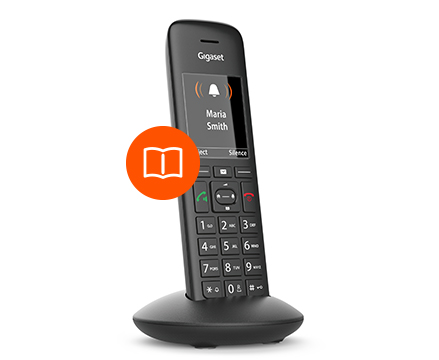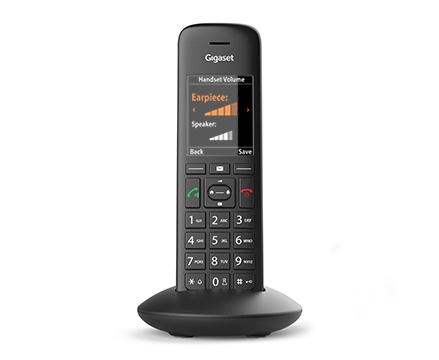 A telephone that's as unique as you are.
Now you can customise your telephone to suit your personal habits and preferences – the Gigaset C570HX has all sorts of personalisation options to allow you to do this. Simply choose your favourite screen saver and display text colour scheme from the wide range available. Set up special ring tones for all your important callers. And: there are even 2 different acoustic profiles, so you can select the frequency range that you find the most pleasant. That way, you'll always enjoy the best possible auditory experience.
Don't let anything disturb your peace and quiet.
You'd like a bit more privacy? The "Block anonymous calls" function allows you to suppress unknown numbers: All calls without a caller ID are only visually displayed or can be blocked completely. In addition, you can also deactivate the ring tone for particular periods of time when you don't want to be disturbed. VIP contacts from your phone book can be viewed and heard at any time, however, so you won't miss any important calls. This means that you can enjoy peace and quiet in your own home whenever you want.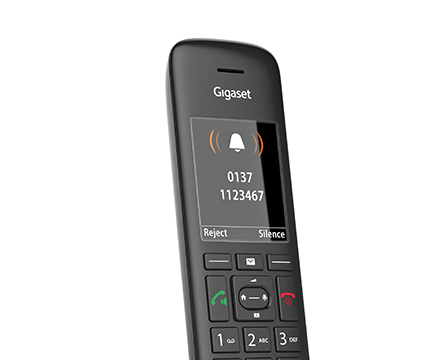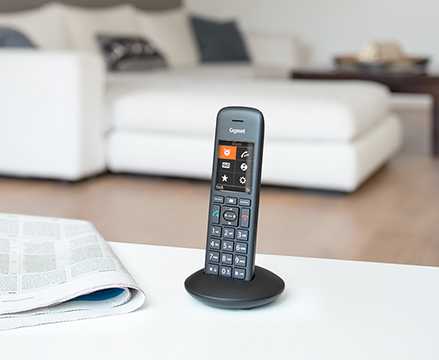 Always at hand, as it's logged in directly at the router.
The Gigaset C570HX is logged in directly by radio link at the DECT base set of your router. Because you don't need a base station any more, you can keep the handset wherever you want. Your phone will always be within easy reach, whether it's in the living room, hallway, study or kitchen. For even more flexibility, you can also log in up to five additional HX handsets at the router.
ECO DECT for radiation-free calling.
Like all the Gigaset cordless telephones, the C570HX is also fitted with environmentally friendly ECO DECT technology. The telephones are radiation-free in standby mode, even if more than one mobile unit is being used, as long as the base and all the registered mobile units support ECO DECT. During a call, the transmission power automatically adapts to the distance between the base and the mobile unit. The shorter the distance from the base, the lower the radiation. For maximum DECT range, you can deactivate the ECO DECT mode at any time.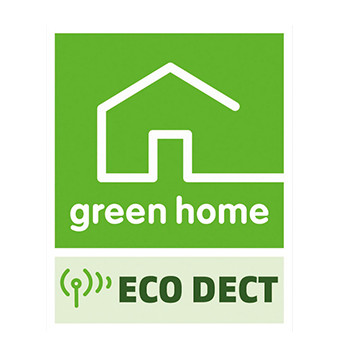 TECHNICAL DETAILS
Specifications
Article name
Gigaset C570HX
Number of telephone numbers (analogue)
1
Calls in parallel (analogue)
1
ECO DECT
Autom. reduction of transmission power, Radiation-free in standby mode, Low energy consumption
Standby time up to (h)
320
Address book # entries, (name, surname, 3 numbers, pictures, date-reminder, sounds)
200
Individual ringertones for VIP entries
Yes
Room monitoring (Babyphone)
Internal (second handset required), External
Direct dial (Babycall)
Yes
Optical call signaling
Illuminated display, Flashing send key, LED flashing light
Number assignment for incoming and outgoing external calls
Yes
Number assignment for incoming and outgoing internal calls
Yes
Phone-/Adressbook-transfer internal via DECT (handset to handset)
Yes
Internal transfer of external calls, conference circuit, call back
Yes
Handsfree talking
Convenient hands-free talking (full duplex quality)
Handsfree talking handset / base
Handset
Adjustable Volume
Via Menu
Display Type
Color Display
Dimensions (H x W mm)
44 x 35
Diagonal spread (inch)
2.2
Resolution (px)
176 x 220
Display of caller
Display of caller's number (CLIP)
Multilingual menu (several display languages)
Yes
Time / Date displayed
Yes
Easy handling with navigation key
Yes
Handset, H x W x D in mm
168 x 48 x 22
Handset, weight incl. Accu in g
118
Charger, H x W x D in mm
92 x 30